Skyrunner® Series
2016 CHINA SKYRUNNER® NATIONAL SERIES - SCHEDULE (provisional)
2016 中國SKYRUNNER®系列賽程

Race 1 – Feb 20 – MSIG Sai Kung 50 – Hong Kong – (Ultra) 第一站 2月20日– MSIG 西貢 50 –香港www.actionasiaevents.com
Race 2 – Apr 23–24 – Dalian 50 – Dalian – (Ultra) 第二站 4月23日– 4月24日– 大連 50 – 大連www.dl100k.com/
Race 3 – Apr 30 – Yading, Sichuan – (Sky) 第三站4月30日–  亞丁– 四川http://cnmtntrails.com/ (World Series Event)
Race 4 – May 21 – Tianmu–7 50 – Zhejiang – (Ultra)第四站 5月21日 – 天目山七尖越野賽–7 50 – 浙江http://www.tianmu–7.com/
Race 5 – June 26 – Dali – Yunnan – (Ultra) 点苍越七峰—2016凯乐石大理苍山七峰越野挑战赛 06月26日– 大理50 http://www.dlsdhw.com/
Race 6 – Sept 3/4 Wugong shan trail 32k/52k – Jiangxi – (Sky/Ultra) 第五站9月3日/4日– 武功山越野賽– 江西http://www.ultratrailmtwugong.com
Race 7 – Oct 2 – Lantau 2 Peaks – Hong Kong – (Sky) 第六站10月2日– 大嶼山雙峰賽– 香港www.actionasiaevents.com
Race 8 – Oct 22 – Peak of Jiangnan Ultra Trail – Zhejiang (Sky / Ultra) 第九站10月22日– Peak of Jiangnan Ultra Trail – 浙江www.jn100trail.com)
Race 9 – Oct 23 – Hong Kong 50 – Hong Kong – (Ultra)第十站 10月23日– 香港島50 – 香港www.actionasiaevents.com
Race 10 – Nov 5 – Ultra tour Mt. Siguniang Sichuan – Sichuan – (Sky / Ultra) 第十一站 11月5日– 四姑娘山超級越野跑– 四川www.utms.com.cn/
Race 11 – Nov 12 – Taiwan 50 – Taiwan – (Ultra) 第十二站 11月12日– 台灣50 –台灣www.actionasiaevents.com
Race 12 – Dec 2/4 – Lantau 50 – Hong Kong – (VK / Sky / Ultra) 第十三站12月2日– 12月4日– 大嶼山50 – 香港www.actionasiaevents.com
2015 SKYRUNNER® SERIES in China - SCHEDULE (FINISHED)

2015 中國SKYRUNNER®系列賽程
Race 1 – Feb 7 - MSIG Sai Kung 50 – Hong Kong 第一站 2月7日 – MSIG 西貢 50 –香港 www.actionasiaevents.com
Race 2 – Apr 18-19 - Dalian 50 – Dalian 第二站 4月 18日- 4月19日 – 大連 50 – 大連 www.dl100k.com/html/
Race 3 – May 16 - TIANMU-7 50K - Zhejiang 第三站 5月16日 – 杭州 50 – 浙江 www.tianmu-7.com             
Race 4 – Oct 30-Nov 1 – Dali 50 第四站10月30日- 11月1日– 大理 50 www.dali100k.com
Race 5 – Nov 8 – Hong Kong 50 第五站 11月8日– 香港 50 www.actionasiaevents.com
Race 6 – Nov 14 – Taiwan 50 第六站11月14日– 台灣 50 www.actionasiaevents.com
Race 7 – Dec 6 – Lantau50 – Hong Kong 第七站12月6日– 大嶼山 50 – 香港 www.actionasiaevents.com 
SKY 
July 19 - Dolomites SkyRace® - 22 km, Canazei - Italy
August 22 - Matterhorn Ultraks 46K - Zermatt - Switzerland
September 5 - The Rut 25K - Big Sky Montana - USA
October 4 - Lantau 2 Peaks - 21 km, Hong Kong - China www.actionasiaevents.com
October 17 - Skyrunning Extreme - 23 km, Limone sul Garda - Italy
Vertical Circuit - Race Schedule
China World Summit Wing Hotel Vertical Run, 5 September 2015 - www.chinaverticalrun.com
Chongqing Vertical Run: 27 September 2015 - www.cqwestinrun.com
SHKP Vertical Run for Charity - Race to Shanghai IFC: 25 October 2015 - www.shkpverticalrun.com
SHKP Vertical Run for Charity - Race to HK ICC: 6 December 2015 - www.shkpverticalrun.com


Sept 3/4 2016 - Wugong Ultra Trail (Ultra Skymarathon)
VIDEO  http://player.youku.com/player.php/sid/XMTYyODg3NTgyOA==/v.swf
点苍越七峰—2016凯乐石大理苍山七峰越野挑战赛 - DALI 50 RACE JUNE 26 2016 - GOING OVER 4000M ELEVATION

点苍越七峰—2016大理苍山七峰越野挑战赛比赛线路全程在大理苍山世界地质公园里完成,50%的路段为未开发区域;起点海拔为2022米,沿元世祖忽必烈平云南进军大理路线,由北向南纵贯苍山七峰(三阳峰、兰峰、雪人峰、应乐峰、小岑峰(4092米)、中和峰、龙泉峰),全程均在苍山之颠奔跑。平均海拔3900米,累计爬升3100米,目前该赛事正积极申报各积分认证。该赛事是极具挑战的超级越野赛,赛道设计覆盖苍山世界地质公园内完整的地质地貌,具有冰川地貌、苍山地貌、断层洼地、苍山瀑布、峰丛峰林、混合花岗岩、苍山变质岩、大理石地质、褶皱山地貌等多样的地质地貌特征,堪称"地质博览越野赛"。苍山是一座有着显著特征和独特地质奇观并潜在着特殊地质科学价值体系的标志性山脉。是中国乃至东南亚地质、地理、生物、气候的重要过渡区域,是区域分带的标志地。是"大理岩"和"大理冰期"的命名地,是变质岩博物馆,是垂直生态景观的展示地。苍山是显著的地理分界点,苍山属于横断山系云岭山脉中支的南端,苍山的西北,是海拔4000米以上,绵延千余公里的青藏高原。苍山的东南,是平均海拔2000米的云贵高原。由于雄伟高大的喜马拉雅山系在苍山结束,苍山以南,再无山脉达到3500米高度,因此苍山被称为"世界屋脊的屋檐"。

本赛道是国内少有的高海拔、大爬升、长距离的高难度赛道,赛道集风景、难度、科普、景观于一身,真正的在"世界屋脊的屋檐奔跑"。路况以地质公园内原始土路、古道、防火道、山脊、草甸、景区石阶路、砂石混合路为主,全程无公路。

2016年6月26日,我们将首次邀请100名来自全国各地和境外的超马跑者点苍会盟越七峰,奔跑在世界屋脊的屋檐、邂逅大理江湖的真与幻,一决跑者江湖的高与低。
http://www.dlsdhw.com/event?id=520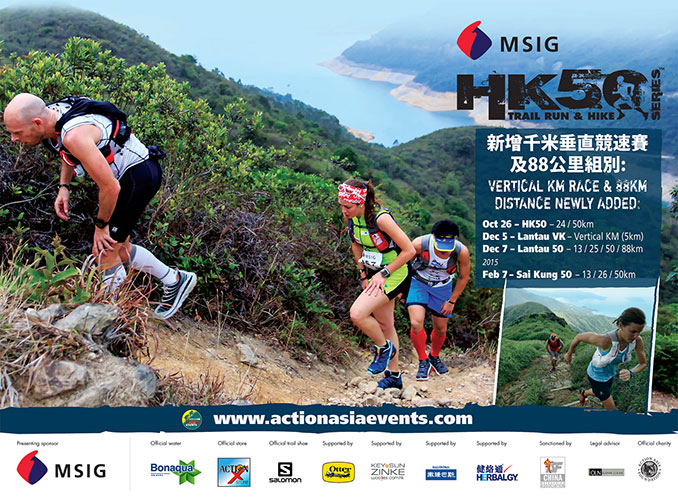 https://www.facebook.com/events/715794495141713/
Salomon 越野跑精英训练营
7大城市資格賽男女冠軍將獲得精英訓練營資格
訓練營最優秀跑手將與Salomon國際團隊共同參加SKY RUNNING 世界冠軍賽
5月 7大城市資格賽(北京 成都 杭州 南京 上海 沈陽 武漢)
6月5日-8日 精英訓練營(法國霞慕尼)
精英訓練營參加人員:Salomon 國際運動團隊 資格賽男女冠軍 特邀越野跑選手
Salomon越野跑训练营亲历:专业源自热爱

作者:蔡英元

Salomon越野跑精英训练营6月5日到8日在杭州举 办。参加者是来自北京、上海、南京、沈阳、成都、武汉和杭州7大城市越野跑冠军赛暨本次训练营资格赛的男、女子冠军,以及Salomon在各赛区跑者社区 的负责人。总教练是来自法国的Gregory Vollet,他被誉为越野跑"教父",是Salomon国际运动团队掌门人,也是发现K天王的伯乐(K天王,Kilian jornet,越野跑领域的众神之神)。助教是俄罗斯越野跑女将Zhanna Vokueva,她2011年曾荣获希腊奥林匹亚马拉松女子冠军(作者注:曾听闻Zhanna是奥运冠军,检索一番发现她是Olympus Marathon冠军。该赛事在Dion神殿起跑,基本为非铺装赛道,途中需翻越2800米高山),后来成为Salomon国际运动团队成员,接连在多项 越野跑赛事中获得好成绩。
MSIG HK 50 SAI KUNG: American's Gillman and Scallon take Hong Kong showpiece
The MSIG Sai Kung 50 a China Skyrunning race lived up to the hype with international athletes taking both the Men's and Women's titles. American Rudy Gilman who resides most of his time in Yunnan, China used his elevation training to his advantage and stole the show as he built a lead over some of the top trail runners in Asia like Hong Kong's Stone Tsang Siu Keung and Australian trail supremo and Inov8 runner Brendan Davies. From the UK, Stu Air put in a respectable performance grabbing 8th in 5 hours 48 minutes with a little more than 24 hrs to acclimatize to 95% humidity before the race and seemed to have a constant smile on his face while others looked like they were in pain. More

Australians Suzy Walsham and Mark Bourne are crowned 2013 Vertical World Champions in the final of the seven-race circuit spanning three continents. "The Race to ICC – 100 – SHKP Vertical Run for the Chest" hosted the final on Hong Kong's tallest tower, where the world's top athletes competed, Sunday, December 1st, 2013. More
Based in Italy and training with the Salomon Agisko team,  Allesandra Carlini had a great season with a 3rd place at the TDS at the Ultra Trail de Mont Blanc among other races and is now confirmed to come to Asia for her first time to enter the MSIG Sai Kung 50 on March 1st.
Michael, Maddess asked her some questions:
1.    Any idea on number of marathons you have run over the distance of 42k?
This is my fifth year running and I run more or less 15 races over the distance of 42km.More